Hack windows server 2003 metasploit. Eternalromance: Exploiting Windows Server 2003
Hack windows server 2003 metasploit
Rating: 7,4/10

1973

reviews
Pentesting Windows 2000/2003 Server with Metasploit Framework
DoublePulsar shellcode Before we can run the Eternalromance exploit we need to generate shellcode with DoublePulsar. You can see that the version number matches the version number in our nmap scan. Now, we need to configure the exploit as per the need of the current scenario. As you can see, I searched for an exploit that held the name vsftp in the title. An attacker can specify any file name, including directory traversal or full paths. The resulting value is used in several calculations and is then passed as the length value to an inline memcpy operation. It has been tested successfully on Windows 2008.
Next
Hack Windows Server 2000/2003 using Metasploit
So if you want to test and practise this exploit, setup a vulnerable unpatched xp system. Type the following command in Fuzzbunch to activate the Eternalromance exploit: use Eternalromance You will be prompted for a lot of configuration options for Eternalromance. Using notepad to track pentests? As we can see the webserver allows us to upload files to the uploads directory and even delete files. It is the responsibility of user to evaluate the accuracy, completeness or usefulness of any information, opinion, advice or other content. As we can see the meterpreter. It can be loaded on Windows systems with the Mimikatz help. Is this just because you are hacking someone on your network? Step 3: Check Your Options To starting exploiting that Windows Server 2003, we first need to check our options.
Next
Exploiting Windows 2003 Server Reverse Shell
We used Nmap and Metasploit to identify potentially vulnerable services. But as this may not always work an easier way is to run the script on the uploads directory. Scan for open ports Before exploiting the xp machine with metasploit it is a good idea to scan for open ports using nmap to confirm that ports are accessible and accepting connections. If a network service is vulnerable, then the attacker might be able to use that information to speed up the vulnerability analysis process. So, we will need to use a different exploit to secretly get into that same Windows Server 2003 box and implant a command prompt. Figure 12 The above figure shows that the exploit was successfully executed against the remote machine 192.
Next
Hack Windows XP Server 2003 with Kali Linux Metasploit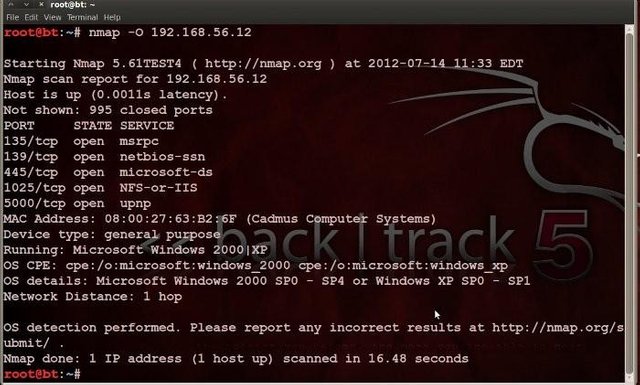 Step 7 Now we can set the payload this will allow the remote connection to connect back to attacker machine. It is an efficient command-line interface that has its own command set and environment system. DoublePulsar Shellcode binary file The next step is to configure and run the Eternalromance exploit. We will be using the DoublePulsar backdoor for this purpose. This is the same technique employed by the Stuxnet code found in the wild.
Next
Exploit + Zero Day: Hacking Windows Xp And Windows Server 2003 With Dcom In Metasploit
The code execution is also triggered if the victim installs the malicious theme and stays away from the computer, when Windows tries to display the screensaver. We shall begin in this paper by covering the basics of exploitation execution using msfconsole and msfcli and compromising a target based on a discovered vulnerability. Metasploit contains various exploits, payloads, modules etc. We attacked a fresh installed version of windows server 2003. This is an overview of the exploitation process.
Next
Hacking Windows Xp And Windows Server 2003 With Dcom In Metasploit
You now own pwn that system! Metasploit does this by exploiting a vulnerability in windows samba service called ms08-67. Remote desktop option was my favorite but this is not at all the only option you have after you hacked the target with the metasploit payload. The functionality includes common post exploitation tasks like scanning the target's network, hardware, accessing devices etc. However, most courses, metasploittraining sessions and books in ethical hacking are starting with that exploit as an introduction to exploitation. Conflicker worm made use of this and infected five million computers! But Firewall as i guess is refusing any tcp connection, except on some ports is there any way to bypass the firewall? When I left off on , we had hacked into the ubiquitous Windows Server 2003 server by adding ourselves as a user to that system so that we can return undetected at any time. As we can see on the screenshot the meterpreter.
Next
Hack Windows XP Server 2003 with Kali Linux Metasploit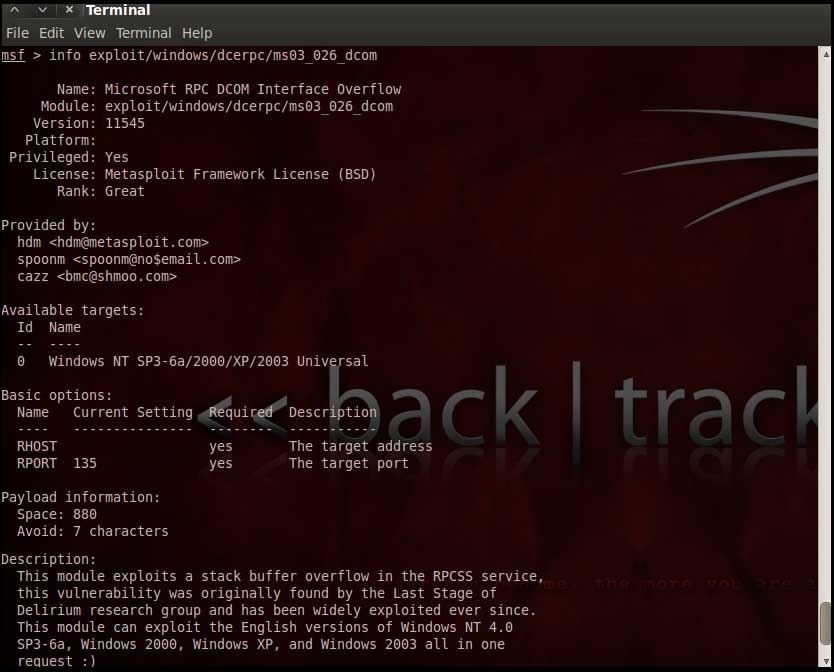 The next step is to inject a reverse shell payload. When there are zero bytes left in the buffer, the length value is improperly decremented and an integer underflow occurs. In this example the ip address is 192. In this tutorial we will target the Apache server on port 8585. It is important that this port number be a port that can be opened on the server i. We have used 3 different tools to upload the files; Nmap, Metasploit and Curl. Below are some of the commands that you will use most.
Next
How to hack Remote PC with Metasploits (Windows 2003 server)
Moving over to our metasploit console lets check to see if the exploit has been entered into our database. It does not involve installing any backdoor or trojan server on the victim machine. It is also showing which operating system is running on the target side: Here, we can manipulate the remote computer shell to suit our needs, for instance enumerate the directory list, remove or create new files, etc. The problem with this approach is that a sysadmin who is on their toes will note that a new user has been added and will begin to take preventative action. Metasploit is quite useful in penetration testing, in terms of detecting vulnerabilities in the target Windows 2003 operating system, as well as for exploiting its loopholes. After that, each new attempt to exploit will tend to crash the system and there is no sysadmin who won't notice that! Patches for other Microsoft operating systems have been released. I am trying to hack windows server 2003 sp2, i can see a lot of services running on target, there is also a lot of backdoors listing on ports like netbus, remote-everything.
Next
Hacking Windows Xp And Windows Server 2003 With Dcom In Metasploit
If you don't get a command prompt the first time, try again as none of these exploits is 100% certain to work every time. Thus we can look for scripts in Metasploit to exploit and gain shell access if this server is vulnerable. You will see how easy is hacking this windows server with metasploit. In this article I am going to introduce requirements and steps to arrange a hacking presentation with metasploit. Or if I want to take control by launching reverse shell not on my network. The output of the nmap scan shows us a range of ports open which can be seen below in Figure 1. Zero-day exploits are exploits that are created that have not yet had a patch created to mitigate the vulnerability.
Next