The acr122u software to crack mifare. How to Crack Mifare Classic Cards
The acr122u software to crack mifare
Rating: 9,1/10

1744

reviews
ACR122U NFC Reader SDK (free) download Windows version
Just create a new key file and insert your keys one per line. Sector: 14, type B, probe 2, distance 18502. Copyright © 2016 GeZhi Electronic Co. We wanted to bring some changes to our home town and we ended up starting a training center. For that to happen, I needed some hardware. Length : It should be 6 bytes 12 Hex chars. You can get the latest libnfc version from.
Next
Mifare Classic
It was cost effective, the documentation was good and more ever it was easy to install and run. Currently following tags are supported. Would you like to answer one of these instead? More deatiled Information about this can be found in the following links: A Mifare Classic 1k tag contains 16 sectors. Lo que vamos a hacer va ser utilizar un lector grabador con el que haremos un volcado de los datos para después modificarlos y hacer los cambios en la tarjeta. A partir de aquí es cuestión de buscar más información para poder hacer un clonado completo de la tarjeta. This free tool was originally produced by Advanced Card Systems Ltd.
Next
ACR122U NFC Reader & Writer USB
The vending machine shows you the credits left on the tag when holding it to reader. Furthermore you agree to not use this content for any illegal purpose. Now we will dump the memory of the entire tag in the file location specified, as seen in Figure 2. Consequently, it would make things easier for support if any issues arise. Use new keys for reading and writing to card.
Next
What software to clone NFC Tag? : NFC
I've tried your suggestion but still failed. En la web de podmeos encontrar cuatro post detallando exactamente como trabaja la autenticación de las tarjetas a la hora de pasarlas por el lector. Si que es cierto que existe gran información, pero está algo desordenada, en este se habla bastante de ello, y leyéndolo desde el principio uno se puede hacer a la idea de por donde van los tiros. At the time of writing the current version was 1. Another method is to reflash the captured output of mfoc via nfc-mfclassic: nfc-mfclassic w B output. Esto permitirá escribir en la tarjeta el volcado que se hizo anteriormente. I launched an attack using mfcuk and got a key back after some time.
Next
ACR122U NFC Reader SDK (free) download Windows version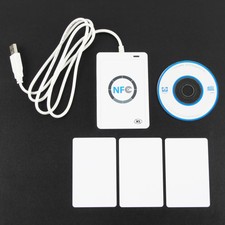 You can also recharge your tag via the machine if you run out of credits. On my sample tag the whole procedure was done in under one minute. A typical attack scenario is to use mfcuk to find the first key of the card which may take quite some time. For connection instructions on the Raspberry Pi please refer to. Now that we own the keys of a Mifare Classic card, we can move onto cloning them. First 6 byte 12 hex character is key a and last 6 byte 12 hex character again is key b. I spent a lot of time finding this out, so please boot into a linux live cd for the following example or use a Raspberry Pi.
Next
ACR122U, mfcuk, and mfoc: Cracking MIFARE Classic on Arch Linux
Here is an example of one sector: 3x16 bytes of data followed by 16 bytes of access keys and accecss bits. Here are the basics to set your machine up for getting the access keys. Auth with all sectors succeeded, dumping keys to a file! The card wasn't encrypted at all! Imagen 7: Escribiendo datos en mifare classic Los parámetros de este comando indican tan sólo lo que queremos hacer, si leer r o escribir w , y la clave que utilizaremos key a o key b. You have to get the exact key from the vendor. El funcionanmiento es el siguiente; tarjeta es pasada por un lector de radio frecuencia a una distancia máxima de entre unos 5 y 10cm, en ese momento el lector envía la señal para autenticarse, y la tarjeta le responde con la clave de cifrado, la auntenticación es mutua. To know more details please refer In Mifare Classic 1K tags There are 16 Sectors and each Sectors contains 4 Blocks and each block contains 16 bytes. So far I have not managed to crack the scheme.
Next
ACR122U NFC Contactless Smart Card Reader Software Development Kit
Back in worldwide, and given the situation today, their efforts paid off. You may use whatever tool you want. We're dedicated to serving you—our customer—with the highest level of service. Find the first key using mfcuk Now, here is the tricky part. I have been looking a lot in cracking a Mifare Classic 1k card that is used for a transportation system in sweden. We understand the importance of tools and gear which is why we carry only the highest quality gear from the best brands in the industry.
Next
RFID Mifare ISO14443A S50 (1K) UID (block 0 /sector 0) writer / programmer / copier
Then,because of that cannot do the load authentication,authentication,read block and all the things. Going to a judge to prevent the information from leaking also works. To verify my hack: I walked into the appliation and used my clone successfully. As an example you can define to use Key A for reading the block and Key B for writing to it. This may take some time up to hours. Note: This is not allowed by the specs, but using very cheap eBay-hardware, obviously it can be done! If you use Kali the libnfc library is already installed, but missing some drivers in my case the uart driver. After examining other tags for the same vending machine I noticed that these all have different keys.
Next